Hopefully Useful Software
EasyBeats
2
Pro Drum Machine for iOS
Poor MPC. This app makes beat making easy but also gives you a chance to add your style to how YOU do things. Kaoik US AppStore
Excellent App and for my purpose - making beats for playing Guitar over - far better than all the others out there. Version 2 has addressed all the issues that limited the EB1 making it nearly perfectBils42 UK AppStore

Fast but Powerful
EasyBeats is built from the ground up to be the quickest and easiest way to create great sounding beats.
Video Tutorials
These video tutorials will turn you into an EasyBeats master in no time.
The Basics in 3 mins.

Import your own sounds.

Export your beat.

Support
If you have an issue, the first place to look is the Support FAQ
Can't find the solution to your problem there? Use the contact form on that page and send me a note.
Click here for Support Page
Features
---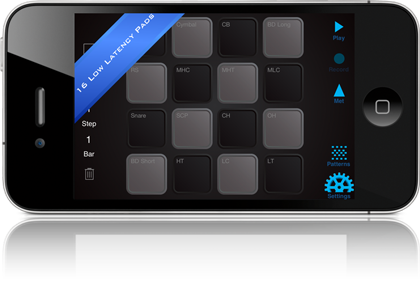 16 Low latency pads
I've put a lot of work into making the pads in EasyBeats as responsive as possible.
This allows you to quickly get a beat up and running just by tapping out the ryhthm.
The low latency allows you to also play live or to play along to songs on your iPod using the inbuilt kits or your own samples.
Easy Pattern Editor
EasyBeats unique pattern editor is loved by customers the world over. Being able to quickly switch beats on/off or copy and paste entire rows or patterns of beats feels natural and fast.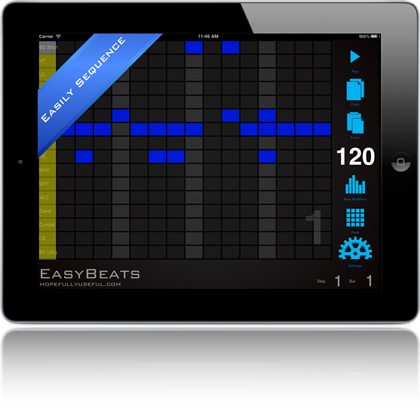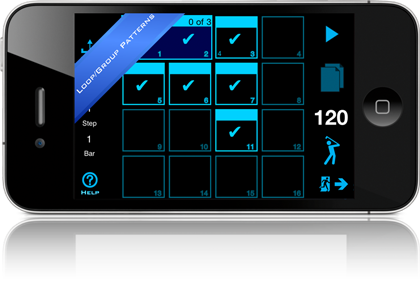 Amazing Pattern Sequencer
EasyBeats 2 brings the unique simplicity of its Pattern Editor to the all new Pattern Sequencer.
Drag and drop or copy and paste entire patterns. Quickly group up patterns or set specific patterns to loop an unlimited number of bars. Add to this the amazing speed of pinch zooming into and out of the pattern editor and you'll wonder how you could make beats without it.
Save and Export Options
EasyBeats is so intuitive it feels like a game, but the export options prove it's no toy.
With the ability to share entire songs or kits plus the ability to export your creation in WAV format, beginners to professionals will find EasyBeats not only convenient, but powerful.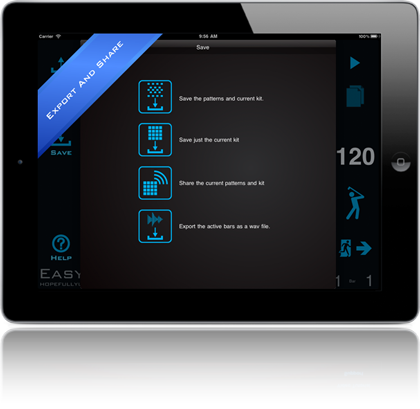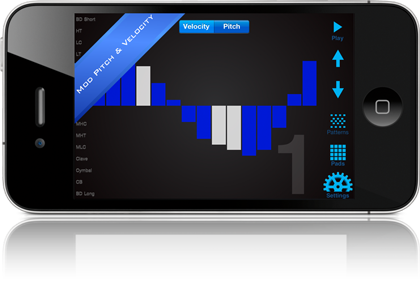 Fully Pitch and Velocity Control
Add a little shine to your beats. EasyBeats 2 allows you to tweak not just the velocity of a sample hit, but its pitch as well. Using the fast touch interface you can quickly experiment with different settings and really make the beat pop.
Community Sharing
Show what you've got, or learn from the pros. EasyBeats' inbuilt pattern sharing allows you to upload and download patterns and samples. Perfect for sharing your latest beat or for getting some fresh inspiration and samples.